ALANSON EMERSON DIXON/ DICKSON
Probably the first Dickson to migrate from Dysartsville, McDowell Co., NC to Western Arkansas, around 1855. First located in Montgomery Co., about 35 miles West of Jessieville, Arkansas,which today is most conveniently located about 3 miles from Hot Springs Village. Jessieville is where the other migrating Dicksons settled, so it is likely that Alanson sent the call back to his siblings about land in the area. Terrain and climate is quite similar to McDowell Co., NC, and mining operations were active at the time as well. Some Dicksons reportedly ran a lead mine during the Civil War to supply ammunition to CSA. While service to the CSA is not proven, he did file a claim of recovery against the U.S.Government on December 17,1872, for payment for a "Good Black Horse" taken from him by one Henry C. Caldwell, Commander 1st Town Cavalry Volunteers, in 1863, in Benton, Arkansas,during the war. The claim was denied, but the paper work did show Alanson was still living in Montgomery Co at that time. He swore the Oath of Allegiance to the U.S.Government.
---
ALFRED WEBSTER DIXON/DICKSON
He enlisted for the Confederacy and served from October 1861 through war's end in 1865. He served in the 34th Texas Cavalry Regiment assigned to the 4th Brigade, Co. C of Wells' Batallion. The 34th originated in Indian Territory, which at the time included parts of Arkansas, and served in Arkansas, Texas, Louisiana and Missouri. They were in battles at Spring River, Missouri, and did outstanding work at Mansfield, Louisiana, where they captured rifles which were of great aid to their cause. Alfred was first in the Artillery and afterwards detailed as an expressman and an ambulance driver. He was captured one night in Northeast Texas as he was crossing the flooded Red River. His horse saved his life as he crossed the swollen river, hanging on to the horse's tail. When he got to shore, the Union force captured him, and because he had almost drowned, he could only grunt respones to their questions. Given his long black hair, dark tanned complexion and his grunting responses, the Union soldiers took him to be an Indian and their commander said "let the damn Indian go." This story is consistent with another told by one of his children. She said that Indians used to braid his hair because it was so long. At war's end, Alfred mustered out near Dallas, Texas, and rode a big black horse back to Panola Co where he married 15 year old Mary Ann (Mollie) Anderson. It is probable that Alfred was drawn back to the area due to his CSA military campaigns in NE Texas and NW Louisiana.
If you are related to or are researching Alfred Webster Dixon/Dickson family please contact his Great Grandson Marshall V. Dickson, Jr.
---
CHARLES BRADSHAW DIXON/DICKSON
Joined the military in 1862. It is believed that Charles B. served first in the Confederacy, but then switched over to the Union in early 1865 because the South could no longer provision the troops. His Union service was with Co. C,13th Tennessee Cavalry,U.S.Army. He mustered out as a mail courier.
---
GEORGE C. DICKSON
Private, Company I, 18th Regiment, NC Troops.Enlisted in Wake County at age 30, August 17, 1862, for the war. Present or accounted for until he died in hospital at Richmond, Virginia, December 30, 1862, of "pneumonia." [NC Troops-A Roster, 6:404]

He enlisted CSA Aug 17,1862, shown on several service cards. One service card shows enlisted Sept. 10,1862. Different service cards show different dates of death, such as Dec. 15, 1862, Dec. 16,1862, Dec. 25,1862, Dec. 30,1862 and Jan. 6,1863. Admitted to hospital Dec. 6,1862. He was last paid November 1,1862. His widow was given $20.16 for pay between November 1,1862 and December 15,1862.

The 18th NC Regiment crossed Potomac River from VA to MD on Sept 5,1862 . On Sept 9,1862 it was ordered to move towards Harpers Ferry. The letter in my file, dated September 8,1862, in Frederick, Maryland confirms this. Between Nov 26,1862 and Dec 11,1862 he served in the Fredericksburg,Virginia area. It was here that George became sick and was sent to one of two hospitals in Richmond. That is where research shows he died from pneumonia.

General Hospital #11
Also called: Globe Hospital, Florida Hospital. Formerly tobacco factory of James H. Grant and Company (not to be confused with his brother William's factory, see General Hospital #12). Built 1853. Still standing partially. Records cover June 1862 through September 1863. Capacity seems to be about 150. Location: westside of first block of north 19th Street, near Franklin. Present site of 8-10-12 North 19th Street.

General Hospital #12
Also called: Banner Hospital, Grant Hospital, Wayside Hospital. Formerly tobacco factory of William H. Grant. Designed by Samuel Freeman and built in 1853. Opened 2 December 1861. Libby Prison Hospital attached to its operation. Designated as Wayside Hospital for men on furlough or honorable discharge on 6 August 1863. Used as barracks by Federal occupation forces. Capacity over 250. Location: northeast corner of 19th and Franklin Streets.
George C. Dixon wrote a letter to his wife, dated 8 September 1862. Another letter
addressed to George's wife, Martha, dated 7 April 1863, informed her of George's death.
---
JAMES M. DICKSON
Private; Enlisted at Camp Vance on October 6, 1863, for the war. Reported on detail as a provost guard at Staunton, Virginia, during March-December, 1864. Paroled at Lynchburg, Virginia, on or about April 13, 1865. [NC Troops-A Roster, 7:28]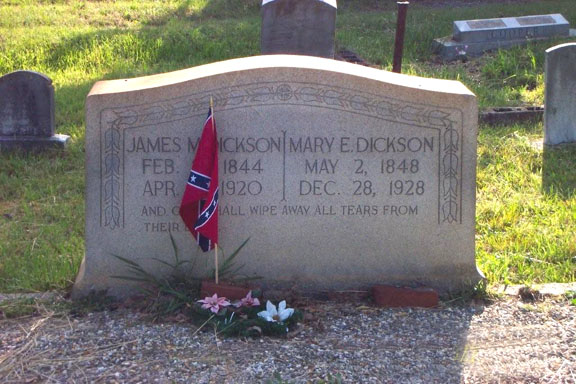 ---
JOSEPH GRAYSON DIXON/DICKSON
He resided in McDowell County where he enlisted at age 22, March 16, 1862. Wounded at Gettysburg, Pennsylvania, July 1-3, 1863. Company records do not indicate whether he returned to duty; however, he was court-martialed on an unspecified date prior to September 1, 1864. Reason he was court-martialed not reported. Returned to duty prior to September 1, 1864. Captured at Hatcher's Run, Virginia, April 2, 1865. Confined at Hart's Island, New York Harbor, until released on June 18, 1865, after taking the Oath of Allegiance. [NC Troops-A Roster, 7:28]. He was buried in Conway, Cleveland County, Arkansas.
---
WILLIAM GRAHAM DICKSON
A Private in the 32nd North Carolina Infantry, Company E, he resided in Catawba County where he enlisted at age 19, September 12, 1861. Present or accounted for until wounded in the abdomen and chest from part of a cannon shell which broke his sternum and three ribs. He was captured at Gettysburg, Pennsylvania, July 1-3, 1863. Confined at Fort Delaware, Delaware, on or about July 7, 1863. Transferred to Point Lookout, Maryland, October 15-18, 1863, Paroled at Point Lookout on February 18, 1865, and transferred to Boulware's Wharf, James River, Virginia, where he was received on February 20-21, 1865, for exchange. His wounds left him with a permanent disability due to poor healing of the bones involved. He filed for a Confederate Soldier's Pension in 1891,as did his third wife Cynthia in 1914.[NC Troops-A Roster, 9:49]
---